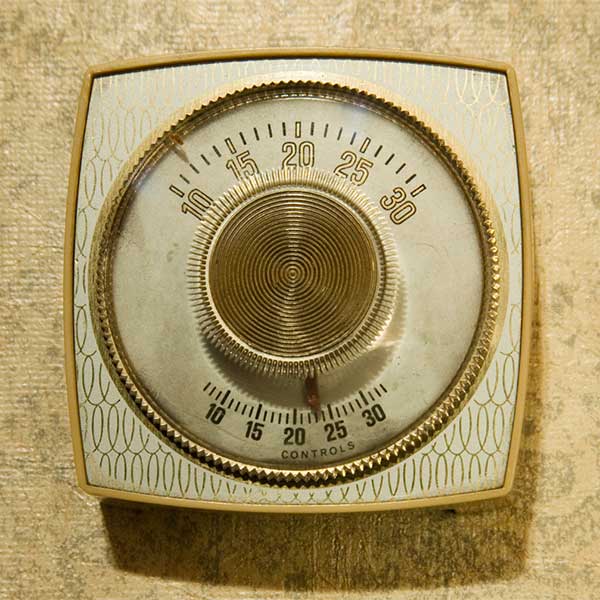 In the early 1970's, Vernon and Carol White started Vernon White Heating and Cooling specializing in commercial heating, air conditioning, and refrigeration service work. 1973 brought a new direction in Vernon's life. He put his years of experience to work and started a teaching career at the Rolla Vocational Technical School as the HVACR instructor. Vernon is personally responsible for helping hundreds of young men and women start a career in the HVACR industry across the country. While at Rolla VoTech, Vernon wrote curiculam for the state of Missouri that is still used today.
In the early 1980's Vernon's reputation for being the best at his craft brought a St. Louis Carrier distributor, Marco Sales, to his door. After many lunch meetings, and several cups of coffee, Vernon White Heating and Cooling became a Carrier commercial and residential dealer and we have not looked back since. In July of 1988, Vernon moved the shop from his house to a new location at 117 S Spilman Ave in Rolla, MO. The new facility provided office space and needed room as the company continued to grow.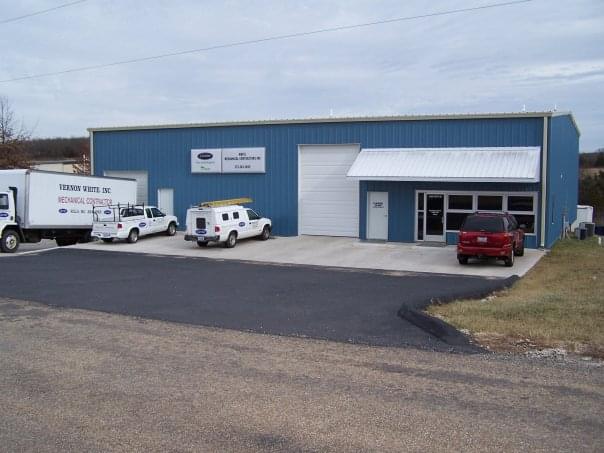 In 1989, Jeff and Teresa Stephens moved from Kansas City, MO to Rolla to work in the family business. Jeff graduated from Linn Technical College in 1984 with an Associates Degree in Design/Drafting and spent the next 5 years working as a mechanical designer, for Black and Veatch Consulting Engineers, one of the largest consulting engineering firms in the country. While at Black and Veatch, Jeff was the design coordinator on one of the largest HVAC projects in the divisions' history. It was during that time, Jeff learned many of the engineering principles he uses today. Jeff also worked as part of a fast track design team on site at the AT&T plant in Lees Summit, MO designing support facilities and providing engineering services for one of the largest single clean room facilites in the countries history. Jeff had the opportunity to work with contractors on site during the construction process, and learned first hand in real time, how important the relationship between designer and contractor is.
As Project Manager, Jeff brought fresh ideas and a professional approach to his craft. Embracing new technologies and tools emerging in the industry, Jeff set out to separate Vernon White Heating and Cooling from other similar contractors. Using his experience as a designer, and new advancing technologies, Jeff began to partner with companies like Brewer Science and Missouri Science to provide specialized services to help their company grow. When Brewer Science began to construct clean rooms, Vernon White Heating and Cooling was there to provide cooperative design and contracting services to help them grow. When Missouri Science was having to tear down an exhaust system almost daily to keep production going, Vernon White Heating and Cooling provided a specialized unique solution and detailed design for a system that is still in use today.
Jeff used this same approach when dealing with residential projects by being one of the first to install residential zoning, multi-staged equipment, variable speed fans, indoor air quality products and geothermal heat pumps as systems and not pieces. Vernon White Heating and Cooling was the first to take a comfort first approach with the motto "we're not comfortable until you are".
The largest segment of our business is design/build whether the project is residential, a church, a civic organization, institutional, or a government facility, the same care and attention to detail is used to make sure you end up with the most comfortable, efficient, and affordable system possible. The unique in house design service we offer, has the potential to save thousands of dollars in coordination problems, and makes job management much easier.
In 1994, Vernon retired from the school system and was recognized by his 20 year class as one of the most admired instructors in the industy. In late 2007, growth to the Rolla area necessitated a move from our Spilman location to our new facility at 11080 Twitty Dr in Rolla, MO. Our new facility gave us 4 times the room as our Spilman location, and allowed us the room to convert to computerized sheetmetal fabrication. Our new facility gives us quick access to I-44 and 63 Highway, and is conveniently located in the Twitty industrial park next to several building and construction wholesalers. With a change in location came a change in our name to White Mechanical Contractors. Although our name has changed, our philosophy hasn't, "treat people like you want to be treated". If we can provide any assistance to you in the purchase of your new system, or service of your existing system, please don't hesitate to contact us. We look forward to hearing from you.